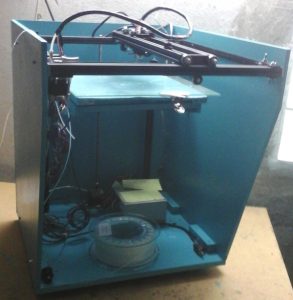 We have designed and built a big cubic shape 3D printer . This machine is destinated to the FabLab Santander laboratory and is a co-creation of the members of the FabLab. The main goals are:
equip the FabLab
investigate low cost designs
share our knowledge
promote the co-creation among the FabLab Santander members
The machine is designed with openscad and the drawing is parametrized as much as we could. It uses standard profiles and classical bearings for long term reliability.
Please find  the sources in github.com/fablabsantander/cubo
See photos gallery .